I've always wanted one of these! - It arrives tomorrow and I can get on with my Recording
---
I have the AKAI EIE, not the PRO version, and I'm really happy with the quality of the recording, a way better than my default soundcard!!!
---
Site Admin
Posts: 1390
Joined: Sat Feb 27, 2010 1:20 am
Location: Amsterdam, Netherlands
Love that design!
I first had the Presonus Firebox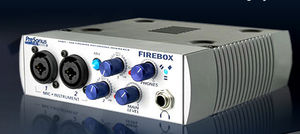 A few years ago I switched to the MOTU Ultralite (MK3 Hybrid)
Friggin' love that thing.
soundcloud.com/auxpulse soundcloud.com/ds10dominator
---
Who is online
Users browsing this forum: No registered users and 1 guest